Looking for a loan or mortgage is both incredibly time-consuming and stressful. There are so many things that you have to get to grips with, and at times it can seem like you need a degree in Mathematics to understand it all, with so many technical terms and inexplicable rates.
However, all most people want to do is get a loan that fits in with their needs, and gives them the best deal.
And that's exactly what 'My Loan Cost Calculator' by LoanTech aims to do. The loan calculator has been developed to 'see through' the typical rate, APR, and monthly payments completely online. It is intended to cut through the figures presented online and reveal the actual loan fees you will be charged, which are supposed to be woven in but due to even decimal point differences in APRs, can have a significant difference on what you end up paying back over time.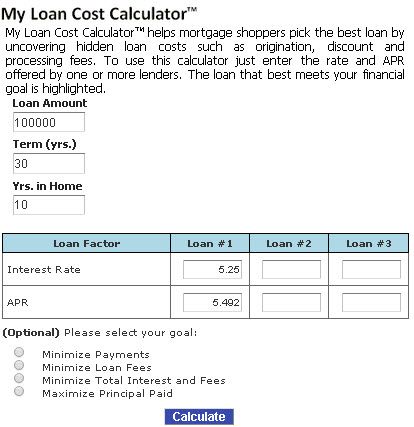 It isn't all about what you pay back overall, however – the clever algorithms help with your decision making in other aspects you face as a consumer when applying for bank loans.
The other questions it prompts you to ask yourself are:
Are you trying to minimise monthly payments over time?
Minimise lender loan fees and charges?
Minimise total interest and fees?
It then gathers the information which helps you to determine what your decision making process in applying for a loan, and then can be an advantage if you are a hair's breadth in deciding between one loan or the other, which you have been presented with.
It was recently debuted in the US, revealing to potential consumers the amounts of fees as well as the total pay-outs over time.
David I. Ginsberg, of Loantech, says he created the algorithms that run the calculator to aid the growing problem consumers have, of finding an easy way for online loan shoppers 'to determine the amount of fees lenders' were tackling onto deals'.
Hopefully, the technology behind it will spread to become widely accessible in other countries, like the UAE soon. But in the meantime, the loan calculator in its basic form is still a hugely powerful tool for consumers. Before it was available, it would have taken months of visits to the mortgage broker and lots of time-consuming, head-scratching calculations. But thanks to the internet, you can have what you need to know about your options within minutes online.
Maybe looking into the terms and conditions, and ringing round asking your mortgage broker for more precise details on the APRs and fees would be a help in the short-term.
As consumers, we should never be scared to ask for more information on what we are effectively purchasing as a product for ourselves – and therefore, have every right to question it as much as we need to, to help us decide whether it's the right product for us. If this involves multiple questions about the monthly fees, overall fees or exact APR rate down to the decimal point, then we have every right to do so.