How to link your Paypal account to your Unionbank EON Cyberaccount? Here's how:
A. Signing up @ paypal.com
– Log on to www.paypal.com and click on SIGN UP.
– Create your PERSONAL account by clicking the "Getting Started" Button.
– Fill up all te required fields in the registration form. Dont worry about linking your credit/debit card. You can always update your account once you have created it.
– Click on "I agree, create my account" button.
– Check your email for confirmation and follow the prompts or log back to www.paypal.com.
B. Applying for EON card (Union Bank)
Currently, the site it not accepting online application so you have to go to the nearest Union Bank branch and apply for EON card. Make sure you have photocopies of your two valid IDs. Simple, fill up the registration form and wait for 7 BUSINESS DAYS to have your EON card. You can just pay the annual fee of Php350 as you claim it from the bank. I suggest that you also make an initial deposit of atleast Php100 for Paypal verification. Say, Php500 would be enough for this purpose.
*Note: Releasing of EON card may take more than 7 BUSINESS DAYS depending on Bank Policies or the Branch itself.
Once you have your EON card you still have to wait for 24HRS for it to be activated. Proceed to changing PIN.
Register it online for EASE of TRANSACTIONS:
– Go to Union Bank Online and click on "EON CYBER ACCOUNT" option.
– A new window will pop up. Click "ENROLL HERE" to be able to access your accounts online. Again, just follow the prompts for registration.
Once your online account is activated, LINK it to your PAYPAL.
C. LINKING your PAYPAL and EON Cyber Account
– Sign in to your paypal account
– Click the option to LINK your DEBIT CARD
– Complete the required details.
You will then receive a confirmation email like this:
Go back to paypal and you will see this page under your TASKS: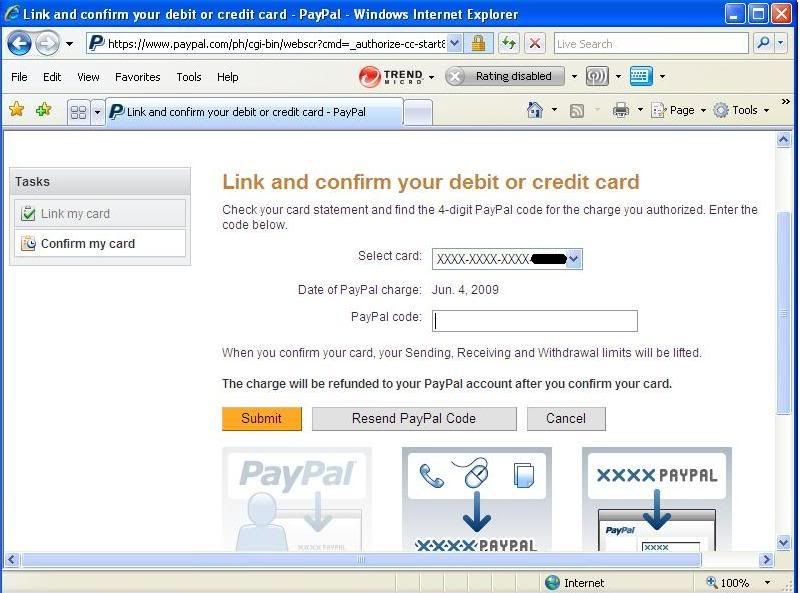 Check your EON Account for the EXPUSE Number:
(You have to click your account and view latest transactions for the details to be displayed.)
Note: You might have already read this on BHO.